For any Brass and Woodwind players seeking a perfect embouchure, and health professionals working with them, the new Exhibition and associated website created by the British Dental Association (www.bda-porter-embouchure.com) is a must. We are grateful to Robin Porter for sharing this piece with us about the Exhibition, which celebrates the acclaimed work of his father, dentist, Maurice Porter, whose specialist work improved the embouchure (the way the lips and mouth are applied) of woodwind and brass musicians.
An amateur clarinettist himself, Maurice Porter understood how critical a player's dentition, lip and facial structure are to the sound created by an instrument and to the player's wellbeing.  As well as advising on dental treatments that would improve players' comfort and performance, through his dedication to the field and his research, he was able to help musicians with poor dentition and facial injuries to perform again with confidence.
His work was acclaimed internationally by the music and dental professions with his papers in the British Dental Journal published in the 1950s and 1960s and his book, The Embouchure, published in 1967 by Boosey and Hawkes, remaining authoritative works. In these papers and book, through using hand drawings and photographs, he explains how the mouthpieces and techniques required for individual brass and wind instruments inter-relate with the facial physiology, bone structure and teeth of a performer.  Also, he considered the potential treatments and adjustments that can be made to assist the player achieve "the perfect embouchure".
Although it is over 50 years since these papers and his book "The Embouchure" were published, his analysis and advice remain, as relevant today, as they were then.
He was elected an Honorary Member of the Incorporated Society of Musicians in 1972 and an Honorary Associate of the Royal Academy of Music in 1973.
BDA Museum Head, Rachel Bairsto said: "Maurice Porter's dedication and passion for supporting musicians was incredible. We are delighted to be able to share his story and celebrate his pioneering work, which helped so many musicians play to their full potential."
Highlights on display at the Exhibition include performance dentures and other temporary devices, specifically made to be worn when playing instruments, and 3D models and detailed drawings of the facial muscles involved in playing different instruments.
The website provides content from the Exhibition including interviews, film clips and biographical material.  It also gives access to Maurice Porter's published BDA papers and has created a reference for more recent articles on the Embouchure.  (The website will be added to, as more content becomes available.)
Visit the BDA Maurice Porter Embouchure Website
This Exhibition was made possible by a donation of material by the Porter family.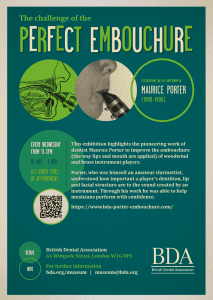 This Exhibition is open at the BDA Headquarters at 64 Wimpole Street, London, W1G 8YS on Wednesdays, until 1 November from 11am-3pm, or at other times by appointment. Please email museum@bda.org or telephone 020 7935 0875 to check other opening times.