British Association for PERFORMING Arts Medicine
Become our Supporting Act
bapam's services are unique and essential
Although the image may be of a carefree or glamorous lifestyle, the reality for most performing arts workers is a highly demanding, often precarious, frequently low paid, gig-economy career, in a sector notorious for occupational risks and poor physical and mental health.
All creative professionals are likely to experience an injury or have other health problems as a result of their work. Supporting BAPAM is a great way to help improve the health of our arts community and maintain its artistic excellence.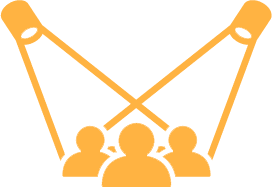 Fundraising and Performances
Our JustGiving page makes it easy to organise a fundraising activity, performance or event in support of BAPAM. Please get in touch and let us know about your plans. We can help with publicity and send you information resources to share. Click for our JustGiving page. 

Join our Clinical Team
Our free clinics are run by doctors (including GPs, orthopaedic consultants and rheumatologists), clinical psychologists, physiotherapists and osteopaths. If you are interested in joining us as a clinician please get in touch. Healthcare professionals who practise either on the NHS or privately can also help us by joining our Directory. Click to find out more. 

Spread the Word
Most people find out about BAPAM from a friend, colleague or teacher. We can provide resources, posters and other material suitable for sharing and for display in learning, production and performance spaces. Follow us and share our posts on Twitter and Facebook. Introduce us to corporate supporters, trusts and individual donors. 

Give a Donation
Click to go to our Donations page.