BRITISH ASSOCIATION FOR PERFORMING ARTS MEDICINE
We Deliver Expert Health and Wellbeing Services for those Working in the Performing Arts PERFORMANCE PROFESSIONALS & STUDENTS
Free clinics, training and resources HEALTHCARE PRACTITIONERS
Experienced working with performing arts patients or clients? THE PERFORMING ARTS SECTOR
Clinical partnership & health guidance for the industry
specialist, confidential medical advice
Book a Free BAPAM Consultation
Our expert clinicians understand the demands of a performing arts career and can help you with physical and mental health problems related to your creative practice. During the Covid 19 pandemic we are providing consultations by telephone and online.
Helping you locate expert care
Find a Healthcare Practitioner
If you need additional specialist care, the BAPAM Directory lists performing arts health experts around the UK.
RESOURCES
Factsheets, Information and Health Guidance
Essential resources for artists, creative practitioners, teachers and industry organisations. Master healthy practice, prevent injury and enhance performance.
RESOURCES
BAPAM for Health Professionals
Training, CPD, joining our Directory and working with BAPAM. Bring your expertise to a developing specialism and build your practice in performing arts healthcare.
Our Featured
Performing Arts Medicine News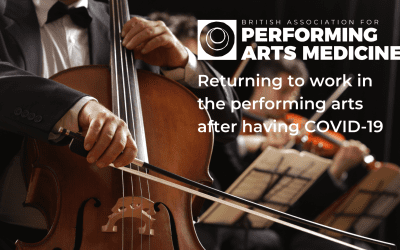 Since the first reported case of COVID-19 in January 2020, over 4 million people in the UK have tested positive for the virus. Many have been asymptomatic, but the majority will have suffered the common symptoms of an acute viral infection. Some may have been...